What is D++ (DPP)?
D++ is a lightweight and simple library for Discord written in modern C++. It is designed to cover as much of the API specification as possible and to have a incredibly small memory footprint, even when caching large amounts of data.
It is created by the developer of TriviaBot and contributed to by a dedicated team of developers.
This project is in stable development and accepting PRs and feature requests — Don't be a stranger! If you want to contribute, just get in touch via GitHub or our official Discord server!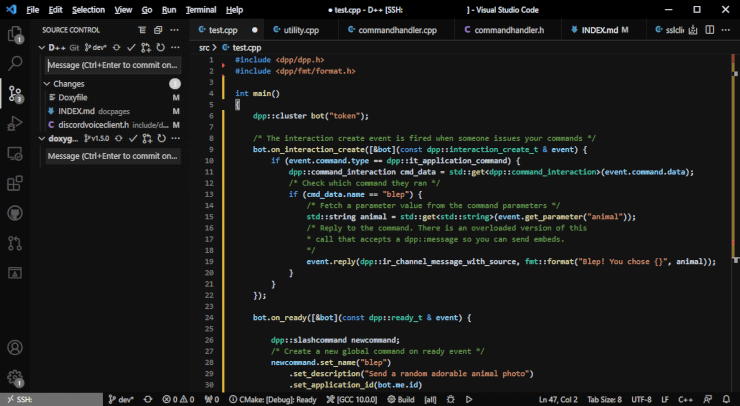 Downloads
The following downloads are for the most recent version:
You can find further releases in other architectures and formats or the source code on the GitHub Repository. For a realtime JSON format list of all download links, click here
Library features
Supported Operating Systems
Linux
The library runs ideally on Linux.
Mac OS X and FreeBSD
The library is well-functional and stable on Mac OS X and FreeBSD too.
Raspberry Pi
For running your bot on a Raspberry Pi, we offer a prebuilt .deb package for ARM64, ARM6, and ARM7 so that you do not have to wait for it to compile.
Windows
Windows is well-supported with ready-made compiled DLL and LIB files, please check out our Windows Bot Template repository. The Windows Bot repository can be cloned and integrated immediately into any Visual Studio 2019 and 2022 project in a matter of minutes.
Other OS
The library should work fine on other operating systems as well, and if you run a D++ bot on something not listed here, please let us know!
Getting started
Architecture
Learning Resources